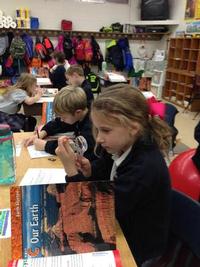 The atmosphere of our school is ever-evolving and dynamic, charged with academic excellence. We offer an advanced, balanced curriculum directed toward the education of the whole child in accordance with the Diocese of Little Rock's Curriculum Guide: In Spirit and Truth.
Each elementary student receives instruction in the following areas:
Religion
Language arts
Computer technology
Science (including hands-on laboratory classes)
Mathematics
Social studies
Visual arts
Music
Spanish
Physical education
The reading and math curriculums encourage achievement while allowing students to progress at their own levels.
Our students consistently score above the national, state, and Diocesan averages on standardized tests, and we regularly compete in academic challenges and contests.
At the most basic level, IC seeks to instill in students across all grades self-confidence, respect for others, and a desire for service in the larger world outside the school's boundaries. We believe that these values form the foundation of a Christ-centered lifestyle.
Special Programs
Caring School Community
The teachers, staff, and administrators at Immaculate Conception School feel strongly about the place of bullying in our school. To achieve that goal, IC has implemented the Caring School Community program, an anti-bullying course for all grades that teaches students to take responsibility for their own learning and behavior as well as the values of fairness, helpfulness, caring, and respect. For more information on this innovative program, please visit the Caring School Community website.