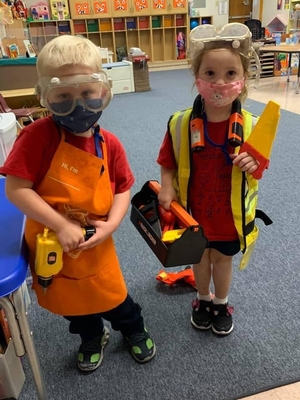 Immaculate Conception School offers full-time and part-time pre-school for 3 and 4-year-old children. Our preschoolers are challenged in many ways through curriculum-based activities, motor and social skill development, and small group instruction with the classroom teacher. Our preschool program is designed as a full-day program (7:50-3:10) with rest time in the afternoon. IC Preschool is licensed to operate by the Arkansas Department of Human Services.
For more information on our program and a tour of our facilities, please contact our front office.
AR Department of Human Services Kindergarten Readiness Skills Calendar, click here.
Mission Statement
Immaculate Conception preschool is committed to the teaching of Catholic Christian doctrines and Christian values. It is dedicated to providing quality academic programs integrated with religious truth and value. The administration and faculty pledge to encourage the appreciation of learning, and seek to develop in each student a love for God and Church, respect for person, and thirst for knowledge.
Enrollment
A child must be 3 years of age before September 1 to enter the 3-year-old class
A child must be 4 years of age before September 1 to enter the 4-year-old class
Maximum class size of the 3-year-old class is 18 students
Maximum class size of the 4-year-old class is 24 students
Child must be fully potty trained. He/She can verbally express the need to use the bathroom. They can go in the restroom by themself and take care of their needs, including wiping. We do understand there will be instances when assistance is needed. Pullups and diapers are not to be worn at school.
Attendance
All holidays, early closing, etc. will fall under the school calendar and guidelines.
Supplies/Nap mats/Chairbags/Backpacks

Supplies kits offered through a company may be ordered online or items may be purchased individually by parents. Supply lists are provided by grade level.
Nap Mats are required for each student. An all-in-one nap mat with a pillow and blanket connected.
Chair bags for P4 only. Available in the school office. Many are embroidered or monogrammed with names and pictures. These will be used through 4th grade, keep that in mind when decorating chair bags.
Backpack must be full-size for carrying a lunch box and folder; no small or rolling backpacks.
Uniforms

Boys and Girls:
A plain white polo shirt, no cap sleeves or logos, and the Red Preschool t-shirt can be worn any day of the week. IC Red preschool t-shirt purchase is recommended. May be purchased at The Toggery.
PTO t-shirts, sold at beginning of the school year, are only worn on Mondays.
Navy blue shorts or pants. No belts! Suggest elastic waistlines with no zippers or buttons.
IC logo sweatshirt and/or fleece jacket only are to be worn in the classroom. Personal jackets can be worn to/from school and out on the playground.
Athletic shoes are required (no light up shoes). Girls may wear Mary Jane's if they have an athletic sole.
Socks must be white and visible above the shoe. No logo or lace on socks.

Girls may wear the IC plaid jumper (with shorts underneath) or IC plaid or navy skort. Leggings can only be worn under skorts or jumpers, not as pants alone.

Tag day dress and additional Uniform information are available in our Handbook.