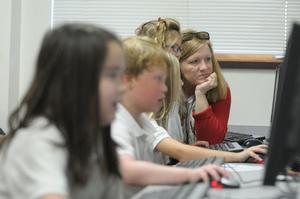 Immaculate Conception Elementary School educates the whole child, focusing not just on academics, but on the spiritual, emotional, physical, and social well-being of each student as well. We believe learning is more productive in a safe, caring environment in which each student learns the values of respect, confidence, and friendship in a Christian-centric manner. IC staff works closely with parents as well to ensure across-the-board collaboration and understanding of goals and progress for each and every student throughout the elementary school years and beyond.
IC also maintains its educational standards with a host of advanced curriculum sources and resources, including the following:
Saxon Mathematics and Holt and McDougal Math
Learning/Handwriting Without Tears
Loyola Press English
Connections Trained Teachers in K-3th grade and Appleseeds in PK
Membean Vocabulary in Jr High
McGraw Hill Reading and Storyworks
McGraw Hill Social Studies
SAVVAS Elevate Science and Mystery Science
Our Sunday Visitor 'Alive in Christ'
IXL
Comprehensive Library and Media Center
Classroom iPads and Chromebooks
SMART boards in our Jr High classes and Music room
Google Apps for Education
For more information on Immaculate Conception School's academic program, please see the Diocese of Little Rock's Curriculum Guide.