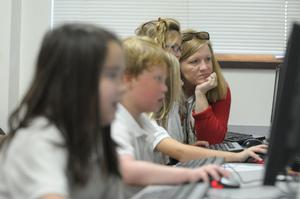 Immaculate Concpetion Elementary School educates the whole child, focusing not just on academics, but the spiritual, emotional, physical, and social well-being of each student as well. We believe learning is more productive in a safe, caring environment in which each student learns the values of respect, confidence, and friendship in a Christian-centric manner. IC staff works closely with parents as well to ensure across-the-board collaboration and understanding of goals and progress for each and every student throughout the elementary school years and beyond.
IC also maintains its educational standards with a host of advanced curriculum sources and resources, including the following:
Saxon Mathmatics
Handwriting Without Tears
Houghton Mifflin English
Modern Curriculum Press Phonics
McGraw HIll Reading
Ignatius Press Faith and LIfe Religion Series
Enrichment
Comprehensive Library and Media Center
iPad cart with a full classroom set of iPads
Classroom iPads and laptops
STAR board in the Music room

Google Apps for Education
For more information on Immaculate Conception School's academic program, please see the Diocese of Little Rock's Curriculum Guide.