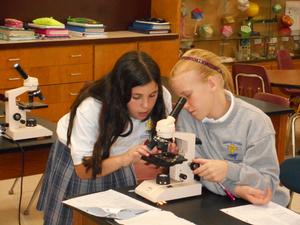 Immaculate Conception Junior High seeks to assist the transition from childhood to adolescence for its students by creating an environment of support and encouragement, culminating in the creation of independent critical thinkers. Students participate in a number of independent and collaborative projects ranging from research papers to science labs to history projects.
All IC junior high students take the following courses:
Religion
Spanish
Art
Computer
Music
PE
Vocabulary
Geography (8th grade)

Arkansas History (7th grade)
Mathematics: The Mathematics curriculum is aimed at preparing students for the rigors of high school mathematics and beyond. The 7th graders use a pre-algebra text created by Holt and McDougal. The goal is to fortify algebraic thinking and associated concepts. The curriculum for pre-algebra helps students develop the skills and conceptual understanding necessary for them to be successful in Elementary Algebra (Algebra I) and to further their general math education. In the first half of the year student learning involves real numbers and operations (order of operations, integers, fractions, and decimals), algebraic concepts (solving and writing algebraic equations), proportional relationships, working with graphs and functions, and percents. The second half of the year we will work with collecting, displaying, and analyzing data, geometric figures, measurement of two- and three-dimensional figures, probability, multi-step equations and inequalities.
Of note, in 8th grade, we use the same Algebra I text used by the 9th graders at Mount Saint Mary Academy. The curriculum for Algebra I helps students develop and refine the skills and conceptual understanding necessary for them to be successful in high school-level mathematics and to further their general math education. We make use of the Algebra I text published by Holt and McDougal. The text was published in 2012 and is aligned with achieving Common Core Sate Standards for junior high students. In the first half of the year, lessons cover the foundations for algebra, solving one- and two-variable equations, study of linear equations and inequalities, as well as systems of equations and inequalities. In the second semester, we explore exponential functions, quadratic and polynomial functions, factoring polynomials and quadratic functions and equations.
Science: The 7th graders study life science and health. This course provides a basic understanding of both life and health sciences including emphasis on cell biology, genetics, anatomy, and physiology. Students will study cell biology and explore life's structure and classification, including the five kingdoms, cell processes such as diffusion, osmosis, photosynthesis, respiration, cell reproduction (mitosis and meiosis), and DNA's structure and function. Students will make use of Punnett squares to study Mendelian genetics and will evaluate the implications of genetic advances. They will study Darwin's theory of natural selection and variation, and how this theory coexists with our Catholic faith. Students will venture into the world of discovery and complexity of the human body. All eleven human body systems, how each functions, and how each system is interdependent to maintain homeostasis will be explored and will include overall health, care, and well-being along with the prevention of diseases and disorders. Labs are dispersed frequently, apply to real-life situations to develop problem solving skills, and include dissecting specimens. Inquiry skills on experiments will include organizational problem solving and mathematical analysis of data, variable manipulation, and identification of sources for experimental error.
In 8th grade the students study chemistry and physical science. This year-long course provides a basic understanding of both chemistry and physical science. This study emphasizes mathematics and includes significant digits, scientific notation, measurement and metric conversions (stair step and factor label methods). Students develop fundamental principles of chemistry and their application of the elements, atomic structure, chemical bonding, chemical reactions, balancing equations, and reaction rates. The physical science portion includes matter, motion, momentum, forces such as friction and gravity, Newton's laws, work, power, simple machines, thermodynamics and energy with a strong emphasis in the mathematics of physics. Labs are frequent, apply to real-life situations to utilize problem solving skills, and are aimed to demonstrate how science influences our everyday lives.
English: Seventh Grade reads The Giver, The Outsiders, and Across Five Aprils as well as sections on short stories, plays, and poetry. They also work on writing paragraphs and write a five-paragraph essay.
Eighth grade reads To Kill a Mockingbird and The Hound of the Baskervilles along with several other shorter selections in a range of genres, including poetry. They write several essays and one large research paper of five pages (with citations and presentation). As part of the large research paper, the entire 8th grade takes a field trip to the main branch of the Central Arkansas LIbrary System downtown to explore different avenues of research and gather sources for their paper.
Social Studies: Social Studies for 7th and 8th grade students provides comprehensive coverage of American History from prehistory to the present. The curriculum is supplemented with various reports and research assignments throughout the year. In addition, both classes receive monthly periodicals that cover current informative topics and events throughout the world as well as information on different countries and cultures.
In 7th Grade, American History will cover prehistory to the Civil War. The 7th graders also take Arkansas History as a semester subject and complete projects on our great state. In 8th Grade, the study will continue with Reconstruction to the present. World Geography is also taught as a semester subject in the 8th Grade. It is the study of the different countries of the world with regard to their physical, economic, political, cultural, and environmental characteristics.