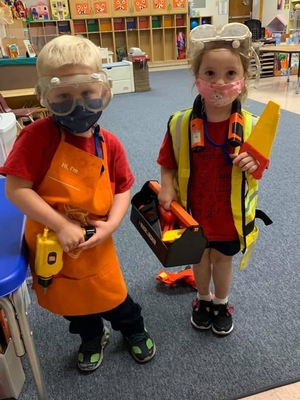 Immaculate Conception School offers full-time and part-time pre-school for 3 and 4-year-old children. Our preschoolers are challenged in many ways through curriculum-based activities, motor and social skill development, and small group instruction with the classroom teacher. Our preschool program is designed as a full-day program (7:50-3:10) with rest time in the afternoon. IC Preschool is licensed to operate by the Arkansas Department of Human Services.
For more information on our program and a tour of our facilities, please contact our front office.
AR Department of Human Services Kindergarten Readiness Skills Calendar, click here.
Mission Statement
Immaculate Conception preschool is committed to the teaching of Catholic Christian doctrines and Christian values. It is dedicated to providing quality academic programs integrated with religious truth and value. The administration and faculty pledge to encourage the appreciation of learning, and seek to develop in each student a love for God and Church, respect for person, and thirst for knowledge.
Enrollment
A child must be 3 years of age before September 1 to enter the 3-year-old class
A child must be 4 years of age before September 1 to enter the 4-year-old class
Maximum class size of the 3-year-old class is 18 students
Maximum class size of the 4-year-old class is 24 students
Child must be fully potty trained. He/She can verbally express the need to use the bathroom. They can go in the restroom by themself and take care of their needs. We do understand there will be instances when assistance is needed. Pullups and diapers are not to be worn at school.
Attendance
All holidays, early closing, etc. will fall under the school calendar and guidelines.